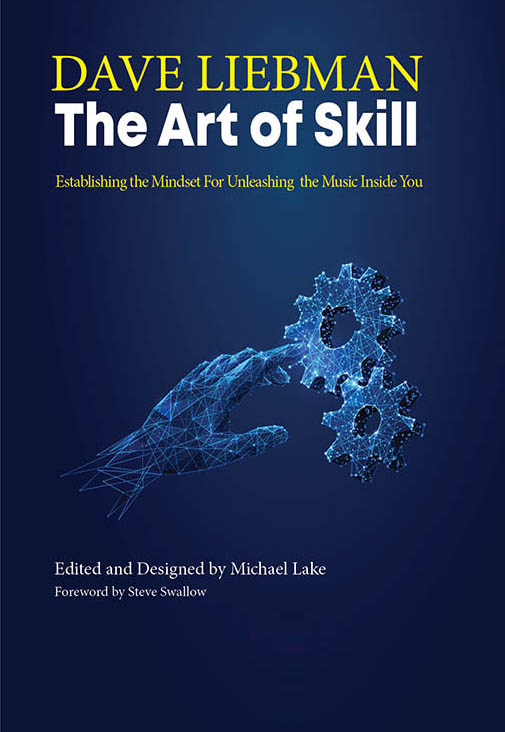 Dave Liebman's appetite for knowledge is voracious. He never stops. He provides an insistent reminder there's more to know. Eat this book. - Steve Swallow

The Art of Skill is a beautifully designed book that chronicles and showcases Dave Liebman's pursuit and attainment of living life as art. Lieb harnesses the mystery of the creative life-force and rides it to the truth that we all have something to say. - Peter Erskine

This is a great book. Dave reaches deep into the spiritual aspect of what we do and he spells it out. I think that it will be great for all musicians young and old to read the thoughts and ideas on how he views the life of an original creative musician. - George Garzone

A valuable summing up of the psychological mind set required for any artist in any medium. Dave's trust in his intuition to guide him through the self-teaching process is an object lesson in itself. - Hal Galper
Just some of what you'll learn from Lieb...
Self-awareness required for knowing your life's true purpose
Dave talks openly about the night his life would change in 1962 from his epiphany upon seeing John Coltrane live at Birdland, and offers advice for being open and aware of moments that will change your life. 
Knowing the practice habits that are right for you
Practicing eight hours every day is not the right approach for everyone. Dave shares his observations of various practicing habits from Miles to Michael Brecker.
The skill, courage, and knowledge necessary to find your personal inner musical voice
Stories of great players Dave knew as well as his own journey provide real-life examples and inspiration to discover how you are meant to sound. 
The critical importance of being a well-rounded musician
Knowing your scales, chords, and tunes are insufficient to be a complete musical artist. Immersing yourself in philosophy, culture, and other arts is essential for the energy and inspiration for your music, and Dave explains why.
Escaping the trap of forever sounding like your musical heros
Modeling the great players of this music is an essential part of developing skill but Dave explains the importance of breaking with your copying and moving forward with your personal sound and approach.
Common traits of jazz musicians
Dave discusses the attributes common to creative and professionally successful jazz musicians.