Three free phone-based jazz resources for busy jazz learners
Produced specifically for today's attention-skattered phone-based life, here are three powerful jazz resources that are easy to consume and rewarding to learn from.
The Snow Leopard and Stage Fright pieces are excerpts from larger materials created by Richie Beirach and me. Richie draws from his over 30 years of teaching and performing at the world's highest levels and he communicates these fresh ideas like no one else.
Pocket Jazz is a video-based improvisation course created by me that originated from several popular TikTok videos.
Feel free to share this page with any students looking for inspiration and new ideas for playing jazz well. Just click an image below to experience the full free piece.
Our goal is to reach the largest possible audience of enthusiastic learners who want their information fast and easy.
Richie and I are very interested in your thoughts on these jazz resources and those of others with whom you share these. Feel free to contact me with feedback or if you experience any problems using these three resources.
1. The Magic Within
The Snow Leopard
How do jazz greats spontaneously perform as if they are reading each other's mind? 
Richie Beirach answers that by spelling out how he, George Mraz, and Jack DeJohnette  performed the first and only take of his tune The Snow Leopard in Stuttgart, Germany's Bauer Studios for ECM records.
2. Overcoming
Stage Fright
As a teacher for over 30 years, Richie has helped countless students overcome their fear of public performance.
Drawing from his personal and teaching experiences, decades of live and recorded performances, and stories of transformation, Richie provides practical guidance for shedding the anxiety of performance.
3. The Pocket Jazz Improvisation Course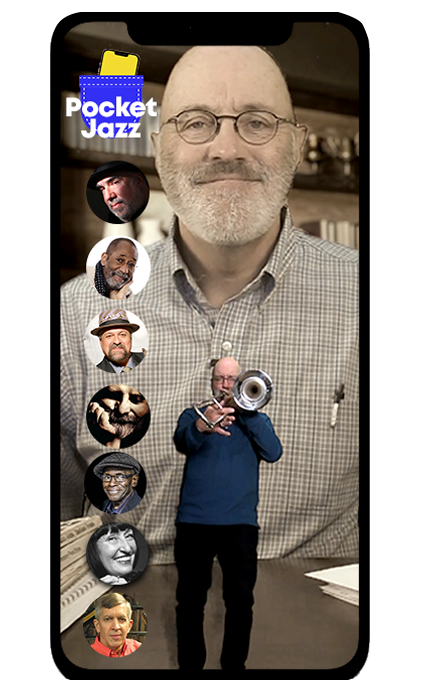 This course originated from a series of short TikTok lessons from Michael Lake which grew into over 60 video lessons built for phone. 
Nearly 70 listening examples and several companion documents combine for a comprehensive, entertaining, and informative course on improvisation for any instrument.