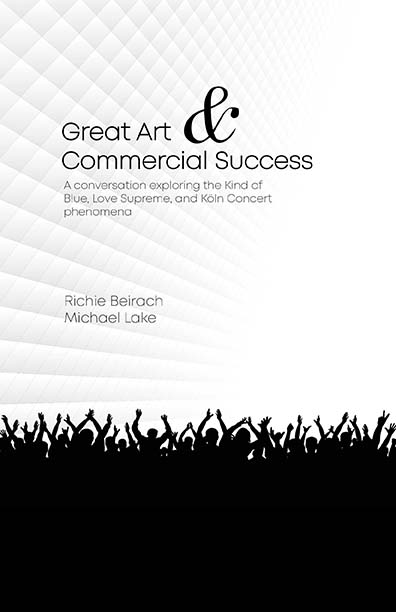 Great Art & Commercial Success
A conversation exploring the Kind of Blue, Love Supreme, and Köln Concert phenomena.
Learn what it was about these iconic albums by Miles, Keith, and Trane that continues to capture the attention of jazz fans and non-jazz fans alike.
This book is brilliant and I really enjoyed reading it. It explains so well the inexplicable with the realization that while it always will remain a mystery, what lasts is what touches your heart and tells a story!! - David Amram

Using three iconic jazz recordings (and their artists), Richie and Michael show the reader how music relates beyond the craft itself and ultimately transcends into art. They explain how these recordings reach people well beyond the horizons of jazz (which is what makes them "commercially" successful). Thanks to Richie Beirach and Michael Lake for reminding us what it means to create true art. - Rich DeRosa, Director of Jazz Composition & Arranging, University of North Texas

Your intimacy with the music and the musicians, the depth of your knowledge and understanding of the subject is beautiul and a valuable gift you are bestowing on us. Thank you so much! - Sidney Corbett

This treatise should serve as an inspiration to artists at all stages of their development to eschew compromise and commit to finding their own personal voice. In the end, this is all that matters.- Roberta Piket
You're about to discover...
That rare link between great art and commercial success
Rarely has great art of any form produced commercial success for the artist in their own time. What was it about these three albums that quickly resonated with a large audience of jazz and non-jazz fans?
The element of genius present in each of these albums
What were the critical elements of these albums that went well beyond pretty notes, and recording quality? Learn about the effects of timing, personnel, intention, and in one case, a bit of good fortune.
Richie's insightful analysis of thesse three albums
Go beyond the common analyses of these iconic recordings and enjoy Richie's detailed insight into the music and circumstances of these three albums.
What you can learn about your own music
Did Miles, Keith, and Trane embark on these projects in order to create hits? If not, what can you learn about their motivation that will attract audiences to your music? 
What separated the three albums from these artist's previous recordings
Each of these great musicians sold albums prior to these hits. What was it about Kind of Blue, Köln Concert, and Love Supreme that connected with so much of the world, and why?
Lessons on the essence of jazz
What separates jazz from other art forms? Is there an ingredient inherent in jazz that if amplified in its purest form, will attract an audience beyond hard-core jazz fans?