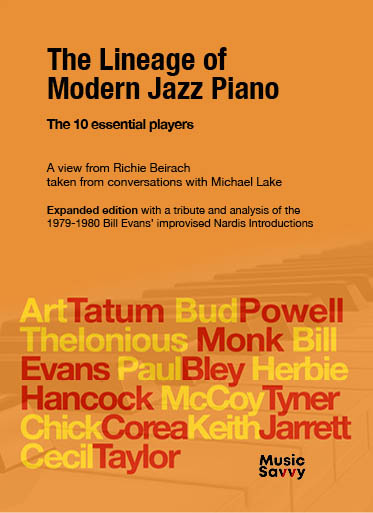 The Lineage of Modern Jazz Piano
A history and profiles of the ten most influential jazz pianists of the past 100 years as told by Richie Beirach.
Read Richie's insightful detail and color to each of these pianists and explains as only he can why they each changed jazz.
"Richie is one of the great explainers of difficult concepts that can be understood both in academia and on the street."
Soft cover edition:

$

19.95
As a bonus, this expanded edition includes Richie's thoughts on Bill Evans' improvised introductions to Nardis
Excerpt from the book: Now, you might ask if the content of this intro was really that different in terms of harmonic vocabulary. Yes! These were much more contemporary harmonic and melodic ideas than he would normally use in the context of playing his tunes with the bass and drums.
Bill studied and played the great music of the 20th century composers like Scriabin, Prokofieff, Ravel, and Berg. He also loved and played Rachmaninoff.
"Bill was a combination of Bud Powell with a little lighter touch and the beautiful voicings of George Shearing. And of course, he was also influenced by Ravel and Debussy, Scriabin, Chopin, and Rachmaninoff, especially in his ballads.  – Richie
You're about to discover...