Bill's improvised intros to Nardis
The Bill Evans Trio with Mark Johnson and Joe LaBarbara recorded an amazing version of Nardis in Stuttgart in 1979. 
At this point in Bill's career when he had his trio with Mark and Joe, he had become rejuvenated again with the music. Mark reminded him a lot of Scott LaFaro and Joe had a great balance between power and sensitivity in his playing. 
Bill was in a difficult stage of his life. He was again having problems with drugs and also problems with the custody of his child, and he was not in good shape physically and mentally. But Bill's inner resources and inner creative facilities were very much intact. 
Bill was like Icarus. He was flying so close to the Sun with his creative surges. And in this live concert in Stuttgart he played his arrangement of Nardis.
The format was that he would play a long, very deep and involved solo piano intro to the tune. Then came the statement of the melody and a long bass solo, usually leading into a drum solo and then the head out. This arrangement was much faster than the original recording on Explorations, which was quite slow. Bill would often use this tune as climax for a set.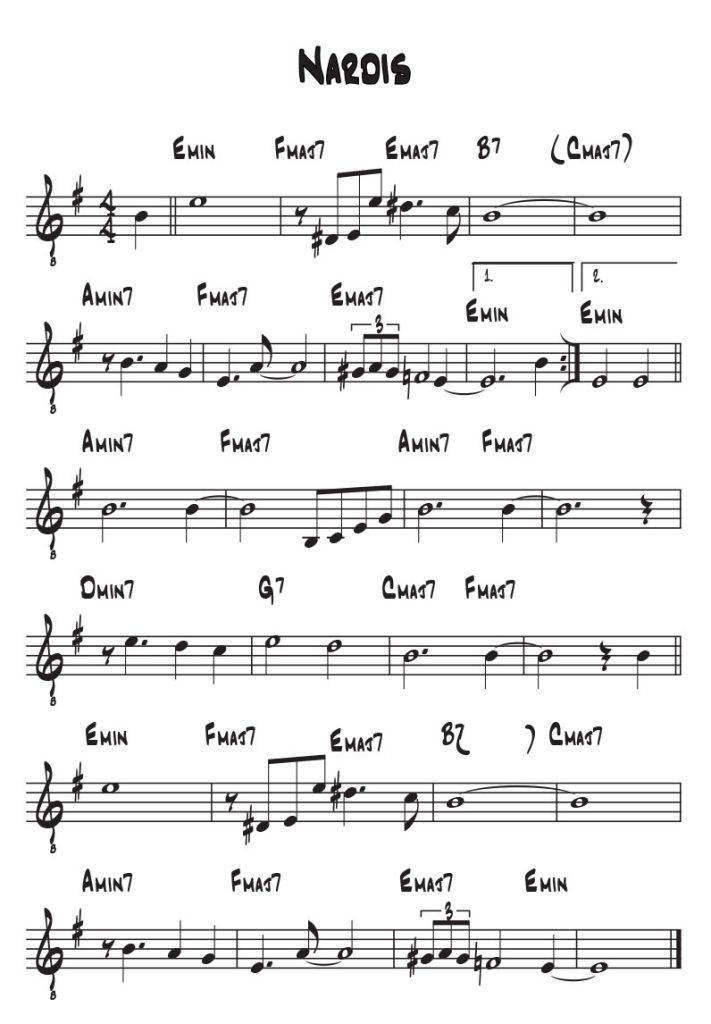 It was a tour de force performance each time. I have in my possession about 15 different versions of Nardis from this period. Bill had never done this kind of long solo piano intro in his career before, as far as I know. And I must say that this is a very unusual thing for an artist to play something so different at the end of their career.
Did Miles compose Nardis?
If you look up Nardis in Wikipedia or on a Real Book lead sheet, it says Miles Davis wrote it. I don't believe it and I'll tell you why.
The tune is a real composition with a great motive, fantastic development, and beautiful changes. It's a 32 bar tune. 
Miles was a great trumpet player, a bandleader, and visionary – he's my hero and a genius. But he was not a great composer. He wrote ditties often with simple repeated lines like Pfrancing (No Blues)…


And Freddie the Freeloader…

Maybe Miles helped Bill write Blue in Green. He did write a tune called Dig, which is a good bebop line over the chords to Sweet Georgia Brown. It's a nice melody.

But show me another tune similar in quality and harmonic complexity to Nardis that Miles wrote. It doesn't exist! Was Nardis a one-off accident? Was it just the one sophisticated tune that he wrote over his entire life? No. 
Or consider this: Miles loved Bill. One could speculate that Bill gave Miles the publishing rights to Nardis in order to fulfill some business arrangement that served both Bill and Miles.
My gut feeling is that Bill wrote Nardis. I can't prove it. It's just kind of a knowledgeable speculation, but Nardis is a piano player's tune. 
Look at Bill's other 50 tunes like Waltz for Debbie, Walkin' Up, Time Remembered, and B Minor Waltz. These are masterpieces. They are compositions, not ditties. 
Miles never wrote music like Nardis before or after. He couldn't do it and I think he knew it. 
Nardis doesn't sound like a Miles' tune. Also, Miles recorded all of his other tunes like All Blues, Flamenco Sketches, Dig, Pfrancing, and the tune Agitation which was on a 1965 recording a called ESP. Like all of them, Agitation sounds just like a Miles Davis tune because it's comprised simply of short intervallic phrases. 
Agitation is very effective as a springboard for improvisation. But Nardis is a full-blown composition.
Did Miles ever record Nardis? No. So that's another anomaly. He never recorded it – at least not that I've ever found. If he had written it, wouldn't he have been proud of it and have recorded it? It's the perfect trumpet melody. Why would Miles record every other tune he wrote except Nardis?
Also, the harmony throughout Nardis is so original, especially for 1958. It contains a rich harmony with minor and major modes with the major gypsy phrygian, and then the bridge. It's a perfect composition.
So the other question is why did Bill record it and play it all his life? There were very few tunes on which he did that. I believe the answer is because Nardis was his tune and he used it to explore the deepest recesses of his musical consciousness.
I don't think we'll ever know the answer, but I just want to say for the record that in my opinion this is a tune written by Bill Evans. Whatever happened between Miles and Bill, we will probably never know. It doesn't matter though, because regardless of who wrote Nardis, it's a lifelong gift to all of us.