After announcing the audiobook version of the softcover book Richie Beirach and I recently published called A Framework for Jazz Mastery, I received a terrific response from a customer.
Before I share with you what he wrote, let me share one objective for the books I've published over this past year with Richie, Dave Liebman, and others.
Sitting down to read books containing hundreds of pages is something fewer and fewer people are doing. The page count in best sellers continues to drop. Have you noticed that books are getting thinner?
So one objective of mine is to create something that feels easy to read and that can be consumed within a few hours. I'm not suggesting that these books are light reading. To the contrary, these books are dense in terms of their information and rich in insight. By making them bite-size rather than 7-course meals, I am encouraging you to actually read it and be impacted by it, not just feel good that you own it.
To further promote the ease of consuming the ideas within these important books, I've created audiobook versions from most of them-with more coming as I pause to catch my breath from narrating Richie's Framework.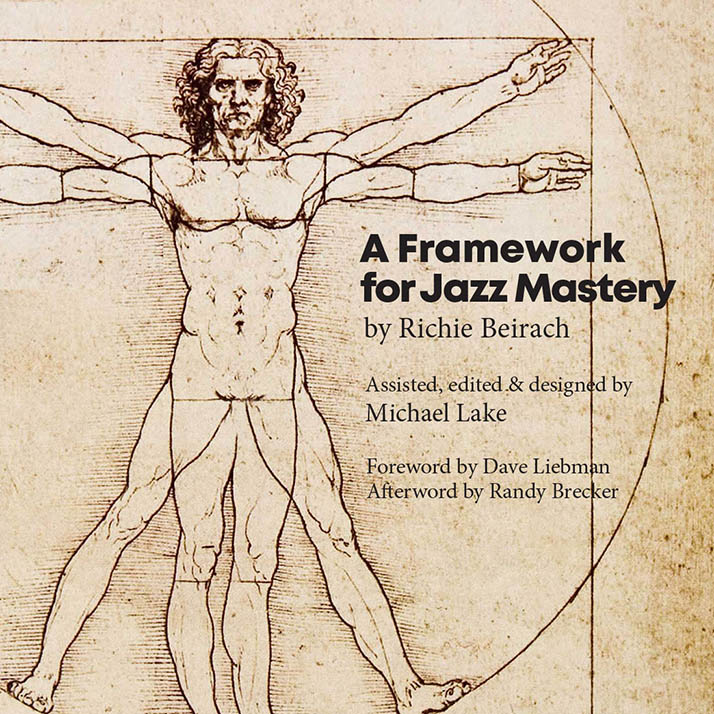 Call it better learning.
That was confirmed yesterday after receiving a comment from a buyer of the Framework audiobook. He wrote:
Listening to the book this morning has left a profound impression and most importantly I have immediately taken actions as a result. As I sit here I have the recommended George Coleman solo to Autumn Leaves on continuous loop and am immersed in his 8th note feel. There is so much to take from this book that I will be replaying it many times over I am sure.
Regarding the comment about the George Coleman solo, Richie said that when he was young, he transcribed George Coleman's solo on Autumn Leaves from the Miles album Live in Antibes. Richie mentioned how melodic and swinging it is and how Coleman's eighth note feel is "to die for."
I think there is something emotionally impactful about listening to a book being read to you. And perhaps even more so in this case considering that the basis for this came from Richie speaking to me. I then transcribed our conversation, edited it alone, and then with Richie multiple times, but always with an ear to keeping the text conversational.

Perhaps what most excites me about the audiobook format is the ability for you to actually hear the musical concepts being discussed. As an example, in A Framework for Jazz Mastery, as Richie provides various ways to reharmonize the Eb melody note in 'Round Midnight, you can hear those specific chords as he discusses the various options.
Take a listen:
When Richie first heard my narration, the first thing he commented on was the similar verbal nuance to his original extemporaneously spoken recording. Perhaps this is due to our hundreds of hours of telephone and zoom conversations through this past year. I guess I have Richie's particular manner of speaking and emphasis pretty firmly in my ear!
Regardless of why, I was thrilled to know that the important ideas Richie presents for practicing, reharmonizing, composing, and everything else reached someone intellectually and emotionally. THAT'S the objective of everything I create-to change someone's perspective on themselves and their music.
If you wish to hear samples and other audiobooks published through Music Savvy, go to the Music Savvy Store.
Another comment I received was a request to make the individual MP3 files available for download.
As it stands, the only way to listen to these audiobooks is to buy them through an established audiobook platform like Apple Books, Scribd, Audible, and others.
I hope you will try out this medium for learning about jazz and that your experience will profoundly change how you think about this music and your playing.
And while Framework, Art of Skill, and others will give you some of the best thinking around for you becoming a better jazz player, you must also learn fundamental music and harmony from great classic tomes like:
Contemporary Harmony by Ludmila Ulehla
Chromatic Harmony by Raucher and Shircliffe
Orchestration by Vincent Persichetti
The Time of Music by Jonathan Kramer
The Music of Bartok by Lendva