A couple weeks ago I sent Richie Beirach a YouTube clip from the movie Whiplash as a bit of levity. It was the scene where the teacher in the film Fletcher berates that poor trombone player for being out of tune. Spoiler alert: He's not out of tune and Fletcher knows it but was using him as an example for his own perverted sense of teaching.
Richie is fond of taking occasional potshots at the trombone, all in good fun as ribbing of me. So, I was surprised by his anger at the clip. He knew of the movie but had never seen it. Seeing that clip set off a bunch of spirited dominos that would fall leading him and I to create a written piece on jazz education.
Richie has taught privately and within music schools his entire professional life including the Mendelssohn School in Leipzig Germany for 15 years. As you would expect, he takes the profession of teaching jazz very seriously, so seeing the glorification of a monster like Fletcher in a popular movie put him over the top.
He called me later that day and said, "I want to write something to express my opinion about this horrible film." So we fired up the printing press and got to work.
The piece we just finished is not just a criticism of the film but in fact, most of it is Richie's thoughts and guidance on effective and motivational jazz education.
If you haven't yet seen the film, our 3,500-word essay will spoil a couple of the scenes, so be warned.
Feel free to download the piece by clicking the image below.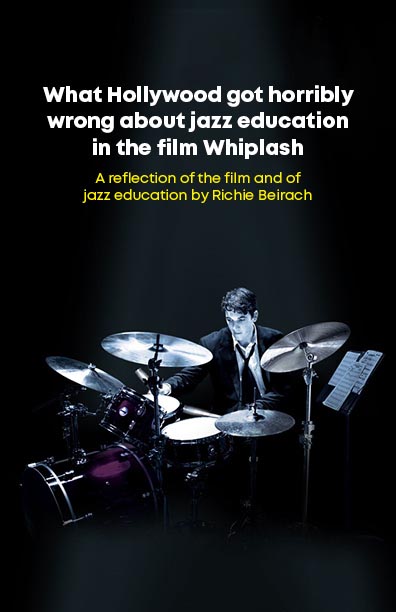 If you like what we've said in the piece, please share the 14-page PDF with friends and colleagues.
And feel free to comment on your thoughts about the film.