Since my interview with Richie Beirach for the Jazz Master Summit more than a year ago, we've collaborated on a great many writing projects for books and articles.
The loss to the poor students at the Mendlesohn School of Jazz in Leipzig is my gain. Richie's retirement from the Mendlesohn School mandated by German law leaves him without an outlet for his vast experience and knowledge. And trust me, Richie is a fire of passionate thought about all things music and it wasn't extinguished by retirement.
More on this coming up.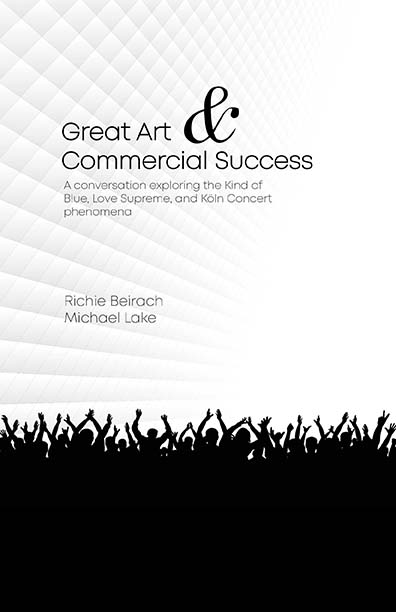 We are now on to our next project and for this, we'd like a little of your help.
The 80+ comments from that post reveal a certain frustration, confusion, and question regarding the way forward in expressing one's authentic very personal musical voice.
Feel free to add your own comment to that post since I am still very interested in your thoughts. (Beware of a few firey land mines where Richie replied to a couple of comments with which he strongly disagreed!)
In this new project, Richie and I want to explore in-depth how an improviser plays what they hear inside themselves. How does one intuitively and emotionally feel the flow of music and time without the paralyzing friction of thinking about changes, scales, form, time, and everything else occupying our mind as we play jazz?
This is a theme in my Improvisation Savvvy course and in so many of my books, videos, and writings. I believe that tapping into Richie will make this exploration a groundbreaking addition to the jazz education literature.
We are formulating questions right now that will help structure the piece. Questions like:
How do I internalize the tune's form subconsciously so that I don't have to think about it when I'm in the heat of performance?
How do I arrive at a place where I feel endless options for my musical ideas rather than being stuck in the same old narrow range of licks and phrases?
How do I develop a sense of time that is so entrenched in my DNA that I can feel the form of the tune without counting or ever getting lost.
Why do I feel like I can never get creatively beyond the chord changes of a tune?
I'm not a musical genius, so how can I find MY true voice and stylize it through my instrument?
How can I practice more effectively so that I can build all of these skills in the shortest amount of time?
The help we're asking from you is to share within the comments of this post your challenges that get in the way of your authentic musical flow and personal expression as you improvise.
We are not writing an academic text on what to play over changes. Far from it. We're exploring and offering remedies to the very real types of musical challenges you encounter when you play over tunes, at whatever level you find yourself – beginner to professional.
Richie is constantly reminding me that professionals wrestle with these very same questions and challenges in their own way. And I remind him that the guidance coming from this project will provide benefits to players of all levels.
I look forward to helping you elevate your own personal musical journey and reading your valuable input.