Some remembrances of Chick Corea by friends and colleagues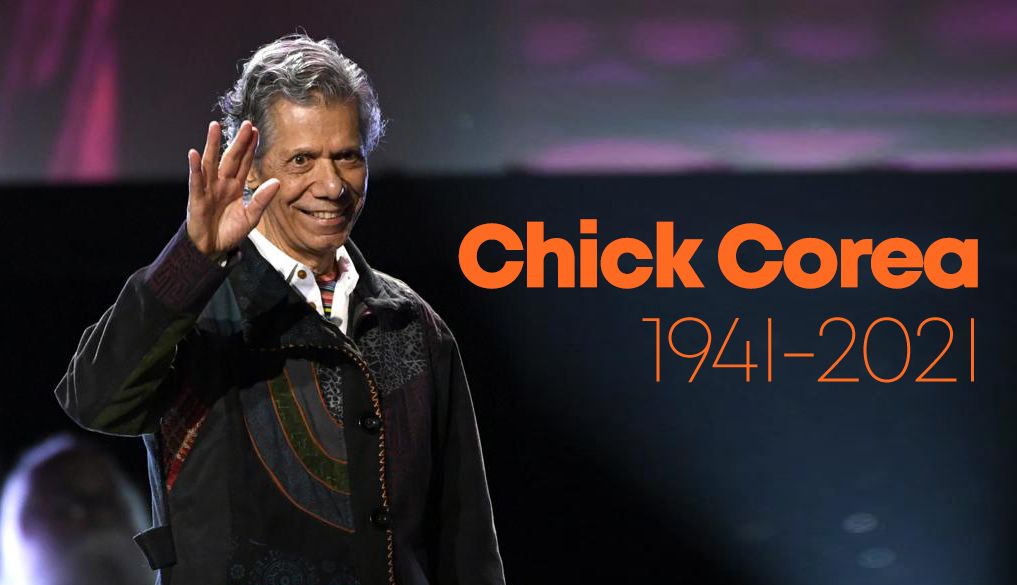 The world was shocked on February 9th, when we lost Chick Corea.
I was on a couple of email threads the next day from reading some remembrances of Chick from people who knew him. With their permission, I will share a few.
From Monika Herzig, author of the book Experiencing Chick Corea: A Listener's Companion (2017, Rowman and Littlefield),
His piano style deeply influenced and touched me from the first note I heard. And his compositions were just what I was envisioning this music to sound like. I share a birthday with him and always felt a special bond. After a concert with the Acoustic Trio he spent an hour with me in the empty concert hall showing the influence of Monk's ideas on his musical concepts. It was such a generous gesture and I'm forever grateful for this very special hour. I hope his music will be played and enjoyed around the world for centuries and he will receive his 24th Grammy in a few weeks, being nominated twice for Triology 2. Beyond his exceptional artistry, he was one of the most joyful, inspiring, supportive human beings, thank you!
From Gene Perla, bass player, teacher at the Berklee School of Music and the Boston Conservatory, and colleague of Chick Corea on a number of recordings.
In the beginning, I wanted to move into Manhattan and saw an advertisement in the Village Voice for a four-month summer sublet in Greenwich Village on Bleecker Street a half block off the Bowery. I called Don Alias telling him I had a grand piano and full set of drums and asked him to join me. On the first night of taking over the place Don arrived from Providence, Rhode Island -- that's when things got into high gear. The music took off big time and it was the start of a huge part of jazz history.
At around midnight there was a knock at the door. Upon opening I met for the first time Chick Corea and saxophonist Joe Farrell. In earlier Boston times Chick, Don and drummer Tony Williams had a rehearsal trio, and unbeknownst to me, Don had called Chick inviting him to visit my loft which turned into a jam session.
Chick liked my playing and invited me to rehearse at his home in Queens where he was living with his family. I went there for several months two or three times a week which was a fabulous learning experience as Chick was tearing up the keyboard. At one of the sessions after playing a very fast piece that I had difficulty keeping up, he suggested to count in 2 instead of 4. Knowing Latin music, that was easy for me and I worked on it for about a month increasing my landings first on 1 and 3, then by measure, then 2 bars, then 4, then 8 until I was able to land on 1 of a 32-bar chorus and not touch down until the next chorus. At that point the only thing holding me back from any tempo was my physical limitation, not my brain.
Later, Chick and I did a week gig in Albany with drummer Dick Berk. Chick also recommended me to Stan Getz which I did one gig but wasn't hired as I didn't have it enough together although a few years later Stan asked me to join him, but I was busy with other commitments. Chick joined Elvin for the first John Coltrane Memorial Concert at Town Hall which I released on my PM label. He also recorded with Elvin on a couple of occasions including the first recording of his "La Fiesta," and a 2-piano piece with Jan Hammer on my tune "Tergiversation." The last time I played with him was at Elvin's Memorial along with Ravi Coltrane and Roy Haynes. The last time I met up with him was sharing a pre-show meal at Lafayette College in Easton, PA where I reside. He did a duo concert with Gary Burton.
Chick was a major influence upon most of us and I'll miss seeing his smiling face.
From Steve Silberman, an award-winning science writer and gold record winner from the Recording Industry Association of America for co-producing the Grateful Dead's career-spanning box set So Many Roads (1965-1995), which was Rolling Stone's box set of the year.
This next contribution was some wonderful, basic advice that Chick provided to students and faculty at Berklee for a performance and Q&A on Apr. 22, 1985.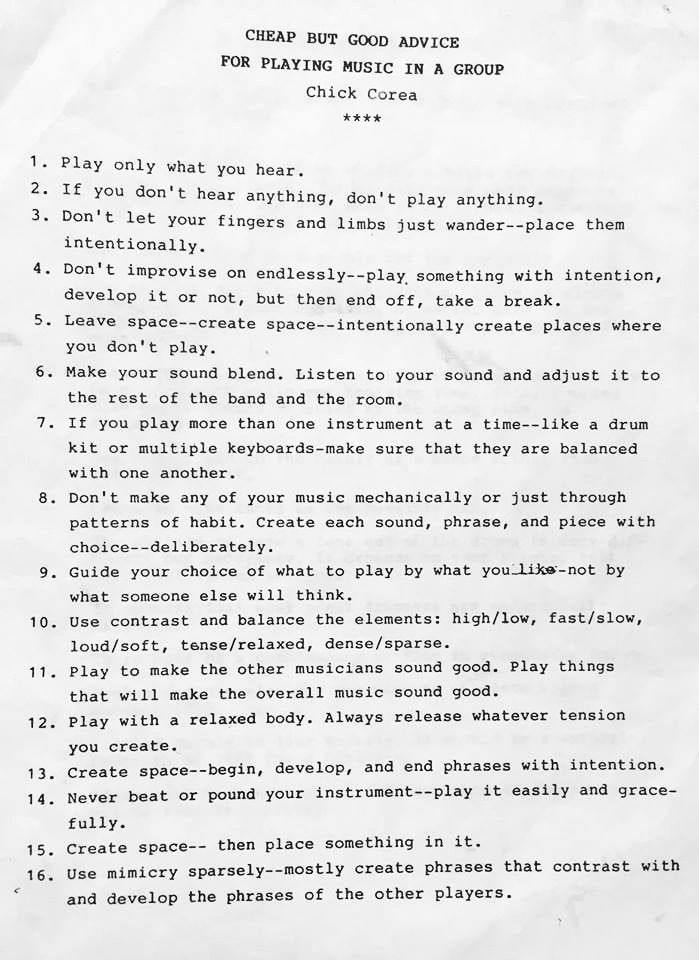 From Richie Beirach, pianist and composer who was admittedly greatly influenced by Chick. This is a short excerpt from Richie's book, The Lineage of Modern Jazz Piano.
Chick had the ability to create singable melodies within very complex chord progressions that end up sounding very natural and smooth because of the grace and total understanding of how to handle these kinds of melodies and progressions.
Chick's earlier compositions never sound academic or stiff. They projected a great emotional impact. This is true of music from all great composers in classical or jazz. His tune The Brain is his ultimate high-energy composition. It consists of a 12 tone-like opening melodic statement with fragmented atonal melodies interspersed with unison rhythmic band figures. All leading to a G minor pedal point for open improvisation. Chick's solo on The Brain is one that every Chick Corea fan should hear.
In my opinion, Chick went as far as McCoy did with Coltrane in terms of intensity, content, and compositional unity throughout his entire solo. Unfortunately, this tune and solo is not well enough known. I believe that this is Chick's masterpiece in this genre.
Chick gave so much music to the world that I consider him to be absolutely part of the essential lineage of modern jazz piano.